Post by Zangief on May 13, 2008 21:22:11 GMT -8
GB Scrimmage v Team Empyre Results
TDC wins 2-0Participants:
TDC
(+1 to all of us

)
Zangief
Chief
Mango Tuts
Phoenix
Beardown
Tequila
Team Empyre
[/u]
Top Notch 408
TxE KAMIKAZI
TxE Balistic
XXXCUFFEMXXX

Game 1 - CTF Narrows: TDC wins 3-1
Ah, sweet redemption. The CTF Narrows monkey is off our back, although we didn't have the strongest start in this game. Frankly, I was a little concerned. Team Empyre started very aggressive, rushing our flag often. On the second or third try they executed an effective flag run and took a 1-0 lead. After that, they got our flag again, however this time we countered by grabbing their flag. That lead to a near 5 minute stalemate. Tequila held our flag most of the time while the rest of us tried to return our flag that was on the other side. I nearly pulled it off 3 times, but each time I got killed with the flag nearly 2/3's returned. Eventually Chief saved the day by catching them off guard. He killed the flag guy and one other, returning the flag and allowing us to score. That was the beginning of our dominance that would last the rest of the match. Including that score, we capped the flag 3 times in row giving us a 3-1 victory.

Game 2 - KotH The Pit: TDC wins 250-130.
The solid play rolled into the next game. This game started as so many KotH Pit games do: early rush, followed by an exchange of hill time among both teams. They had the slight edge on the first hill location, but after that it was all TDC. At one point Mango held the hill uncontested for 1:33 seconds, showing that the rest of us were taking care of business else where. Among all of the slaying was a Phoenix [crazy kid deep voice]TRIPLE KILL!!![/voice], leading to a 2 minute TDC victory.
MVP - vote above
Click here for game stats and PI
- PI Note: The way the PI's turned out reminded me that I still need to work on the formula. Single game PI's tend to be really high, but when you average out between multiple games it really starts to take shape an reflect true performance.
Screenshots:
(TDC in blue all games)
Game 1 - CTF Narrows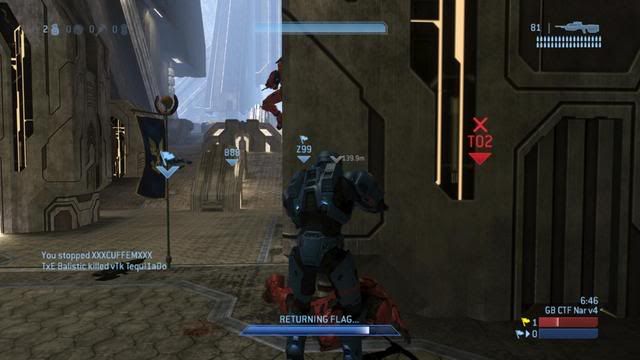 Finally.
Chief ends the near 5 minute stalemate with the flag return here. He also takes care of the red guy jumping around like a clown. It was the turning point of the game, giving way to 3 unanswered flag caps by TDC.
Game 2 - King of the Hill The Pit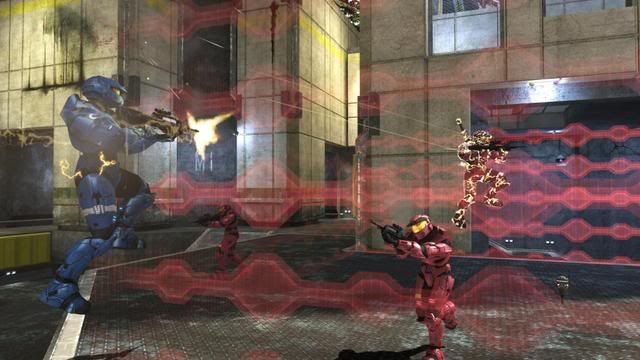 I am Mango hear me roar!
We are up 182-93 in this shot when Mango (in blue) decides to take his role as hill bitch quite seriously, charging all three red dudes in the hill. He did not survive, but his death was not in vain as we easily took all three of them down and regained control of the hill.